Description
                            VAPORESSO LUXE XR MAX POD VAPE KIT

The Vaporesso Luxe XR Pod Vape Kit is an incredibly adaptable and flexible pod vaping kit, catering for all three vaping styles with a vast choice of MTL, RDL and DTL coil options within the  Vaporesso GTX coil series
The Luxe XR packs a huge 2800 mAh built-in battery, powering Vaporesso's AXON chip technology for a whole day of vaping with up to 80 watts of power, and is made easy to use with its large 0.54" OLED screen. The kit is supplied with both a DTL and RDL pod, along with compatible DTL 0.2Ω Mesh and RDL 0.4Ω coils.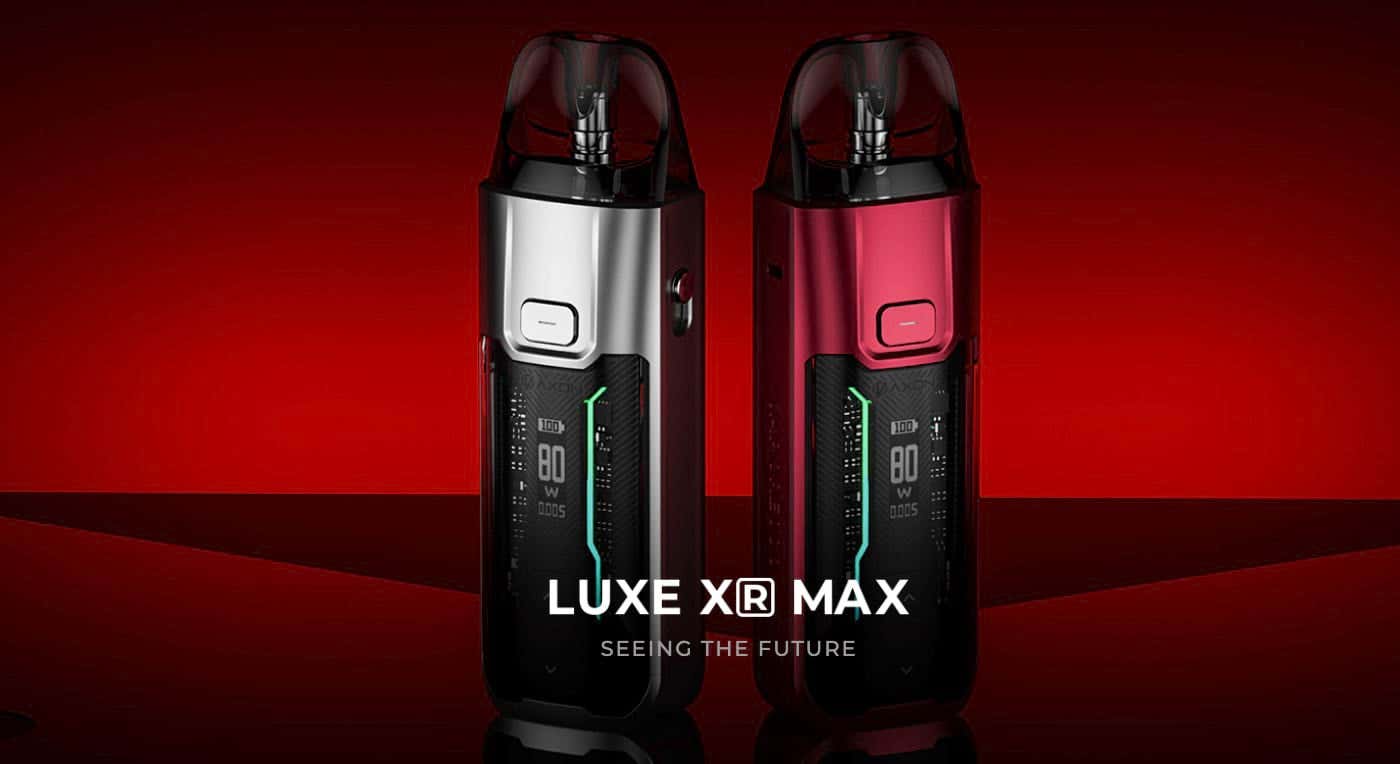 Key Features
2800 mAh Ultra-High density battery
Max 80w AXON Chip
SSS Leak-resistant technology
COREX heating tech
GTX Coil platform

Colours
The Vaporesso Luxe XR Max pod vaping kit is available in 7 different, simple and stunning colour choices:
Black
Grey
Silver
Blue
Red
White
Green

Strengths
The Vaporesso Luxe XR Max is the latest pod mod kit in the Luxe X series of pod vaping kits, with an improved futuristic design and style, adopting a whole new level of longer battery life.
The flexibility of this pod kit allows for multiple styles of vaping with the use of the vast range of Vaporesso GTX coils.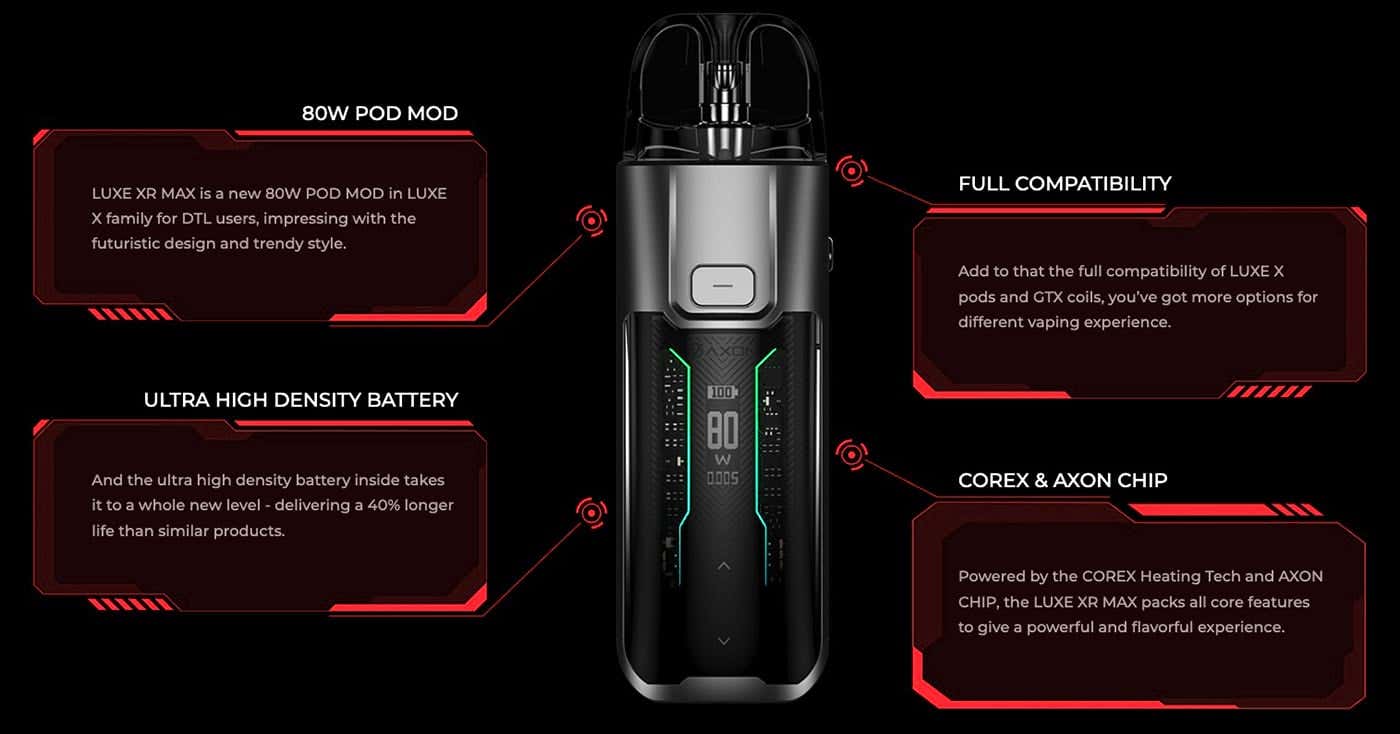 Compact, powerful
The Luxe XR Max adopts the ultra-high-density 2800 mAh built-in battery, with up to 40% bigger batter capacity than the original Luxe X device, which is designed to be much mightier while keeping it compact enough to empower you through a whole day, when using the DTL setup.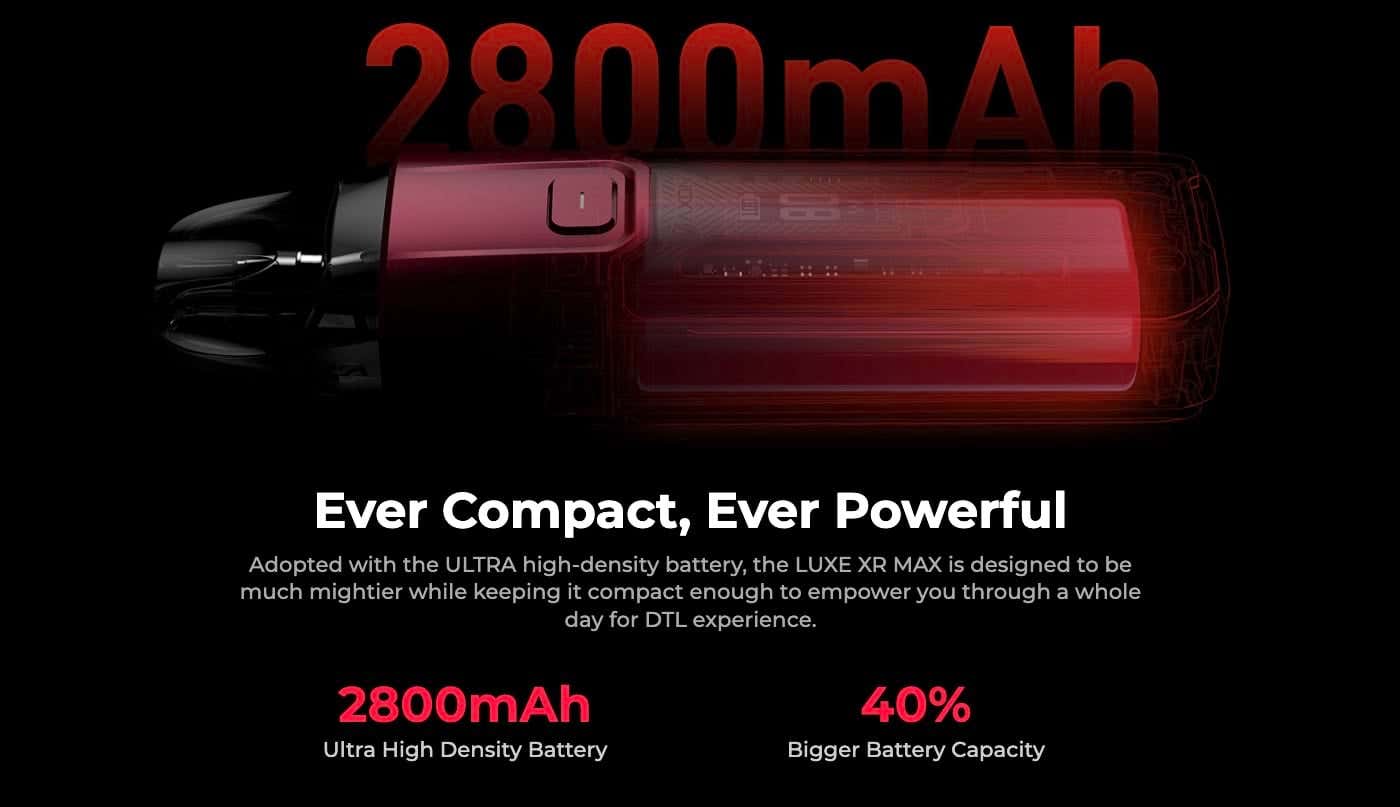 AXON
Vaporesso's AXON chip technology powers an easier-than-ever user interface with smart touch buttons. Minimum operations are applied to meet the maximum 80 watts of power and provide an enjoyable experience for all experience levels of vapers.
Operation
By using the single function button, located in the middle of the device, multiple functions can be easily carried out using the following direction:
1 x Tap = Confirm
3 x Tap = Adjust wattage/power
4 x Tap = Enter main menu settings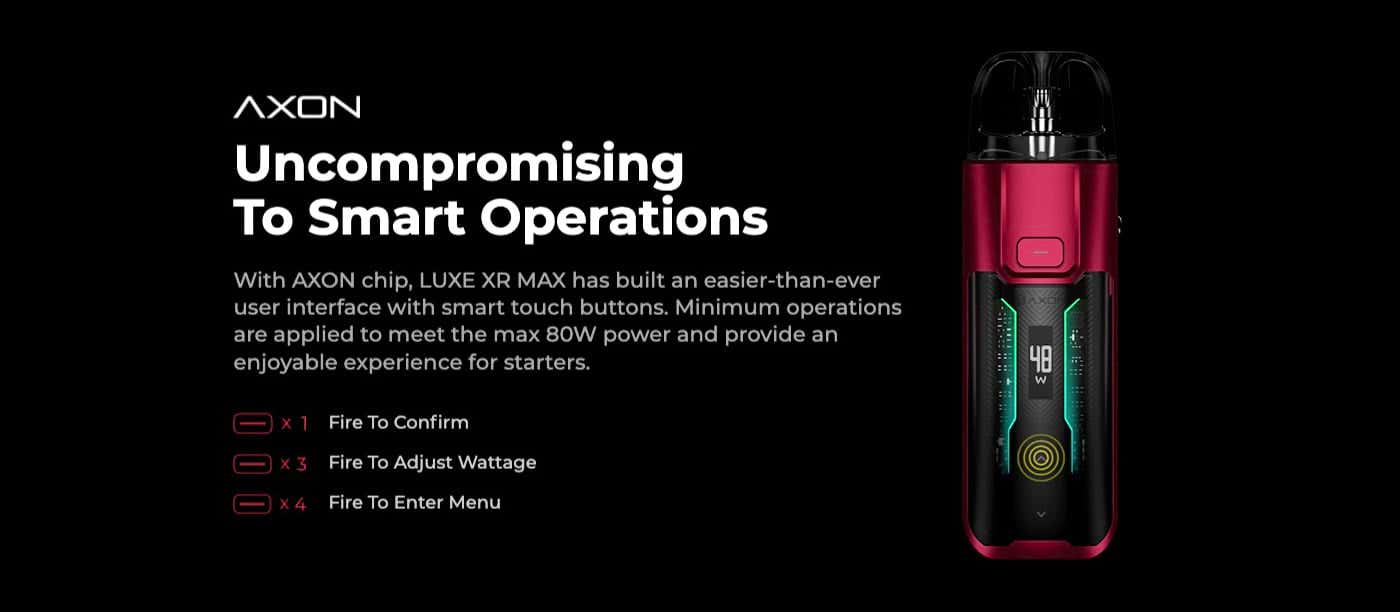 Smart recognition
The Luxe XR Max pod vape kit incorporates Smart Mode, recognising the coils' resistance, and furthermore the best-applied wattage for that coil. This feature helps vapers know what best to set their device to, and importantly avoid prematurely burning their coils out through accidentally over-powering.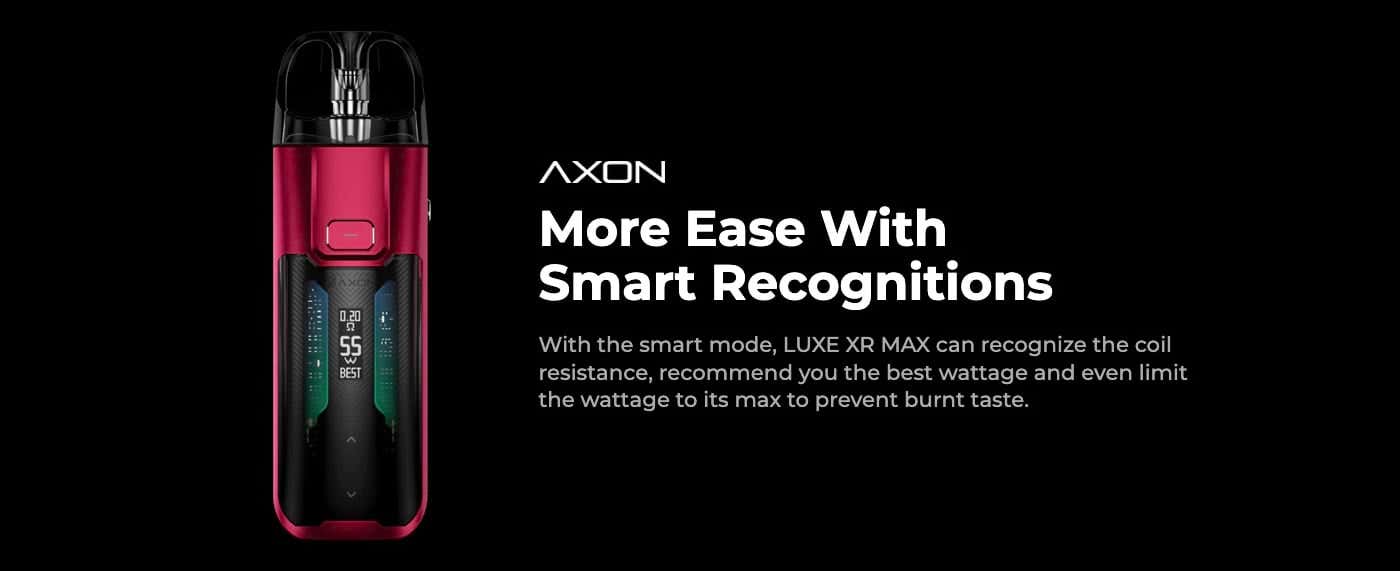 Style
The Luxe XR Max features an energetic breathing light, shining through its crystal clear designed body.

Airflow
The precise airflow adjustment, located on the side of the Luxe XR device simply provides customised vaping experiences from tight mouth-to-lung, easier restricted-direct-to-lung and direct-to-lung vaping. 
Replaceable GTX coil pod
The Luxe XR pod is the replaceable coil version of the Luxe X pod, which can also provide MTL and RDL vaping experiences.
The COREX heating technology, applied on the GTX coils, ensures rapid and even heating, providing a surprisingly boosted flavour and larger cloud production.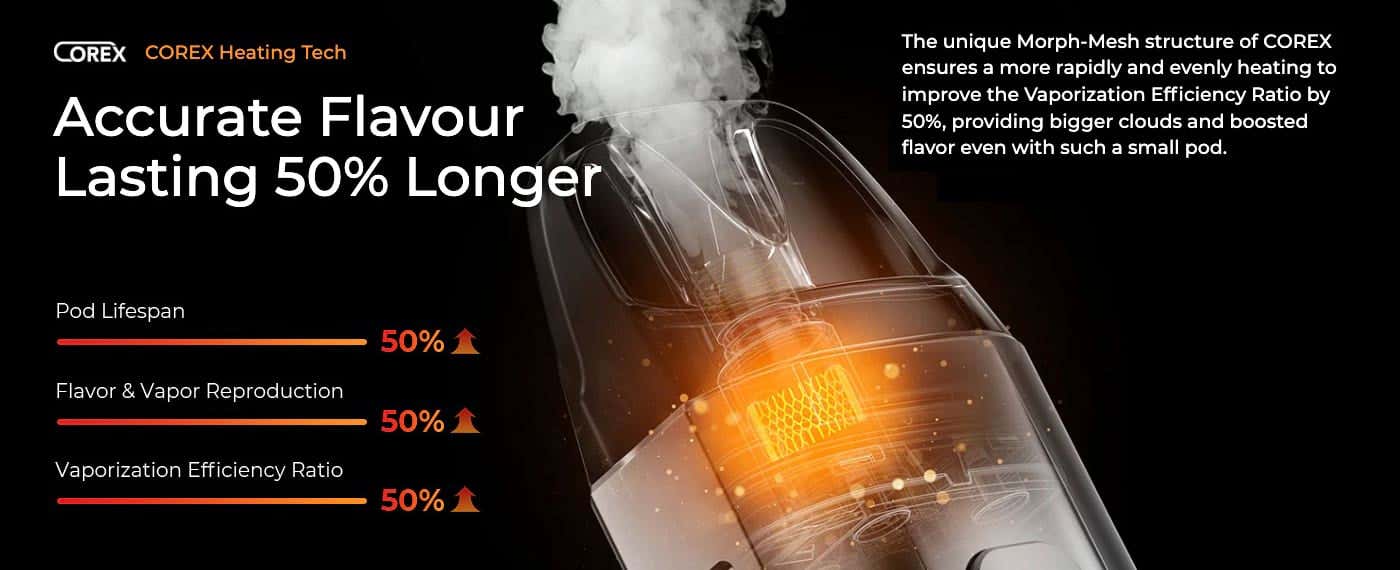 Endless choices
The three different Vaporesso Luxe XR pod options cater for all vaping stylesDTL, RDL and MTL, using the compatible   Vaporesso GTX coils for each pod type.
DTL Pod (Included with kit)
The Luxe XR DTL pods are compatible with the dedicated DTL coils that Vaporesso offer within their GTX coil range:
GTX 0.15Ω Mesh - 60-75w (Best 70w)
GTX 0.2Ω Mesh (Included with kit) - 45-60w (Best 55w)
GTX 0.3Ω Mesh - 32-45w (Best 40w)
RDL Pod (Included with kit)
The Luxe XR RDL pods are designed to offer a slightly more restrictive inhale (restricted direct to lung vaping), compared to the DTL option and are compatible with the following Vaporesso GTX RDL coils:
GTX 0.4Ω Mesh (Included with kit) - 26-32w (Best 30w)
GTX 0.6Ω Mesh - 20-30w (Best 24w)
MTL Pod
The Luxe XR MTL pods deliver a far tighter draw than their RDL and DTL counterparts, perfect for the replication of smoking a cigarette and far less power, using the following Vaporesso GTX MTL coils:
GTX 0.8Ω Mesh - 12-16w (Best 16w)
GTX 1.2Ω Mesh - 8-12w (Best 11w)
GTX 1.2Ω Regular - 8-12w (Best 11w)
Luxe X
If you are not keen on replacing your coils with the replaceable coil pod option, the original built-in coil Vaporesso Luxe X pods are also compatible with the Luxe XR Max pod vaping kit, with three different resistances available, catering for each vaping style.
MTL, RDL and DTL
The replacement pods are available in three resistances, a 0.4Ω Mesh DTL pod, 0.6 Ω Mesh RDTL Pod and 0.8Ω Mesh MTL pod.
0.4Ω Mesh DTL Pod - 32w
0.6Ω Mesh RDL Pod
0.8Ω Mesh MTL Pod - 16w

Anti-leaking
The Vaporesso Luxe XR pods have SSS leak-resistant technology to lock the liquid inside and reduce leakage with maximum effect.

Specifications
DImensions: 106.5 mm x 32.1 mm x 26 mm
Battery Capacity: 2800 mAh
Charging Current: DC 5V/2A, Type-C
Output Power: 80w Max
0.54" OLED Screen, 2* RGB LED Light


What's in the box?
1 x Luxe XR Max 2800 mAh battery device
1 x Luxe XR DTL Fitment Pod
1 x Luxe XR RDL Fitment Pod
1 x GTX 0.2Ω Mesh DTL coil
1 x GTX 0.4Ω Mesh RDL coil
1 x Type-C USB charging cable
1 x User Manual / Warranty Card

The Vaporesso Luxe XR Max Pod Vape Kit is an adjustable power, multiple vaping style pod vaping kit, designed for use with a wide range of liquids. These include using the High VG 70+ e-liquids GTX coil within the DTL Pod, and  Freebase Salt E-liquids with the 0.4Ω in the included RDL pod.
You can read our guide on vaping  to learn about the differences between mouth-to-lung vaping and direct-to-lung vaping.
To avoid premature pod coil failure, be sure to follow our coil priming guideIMPORTANT: If you are purchasing for Vaporesso GTX coilsuse in the Luxe XR Max Pod Vape Kit, and require the compatible pods, be sure to purchase empty Luxe XR pods and not the built-in coil Luxe X pod type.
Compatible items